COLOUR
TURN
JOURNAL
interdisciplinary and international journal in the open field of colour studies
The Colour Turn is a peer-reviewed journal that seeks to promote and advance interdisciplinary research into Colour Studies.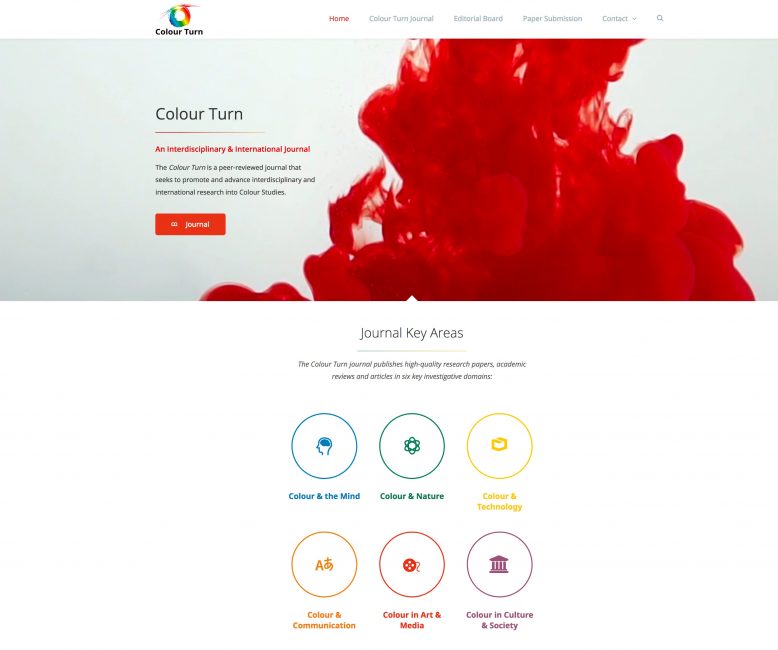 Journal Overview
The Colour Turn is a peer-reviewed jour­nal that seeks to pro­mote and advance inter­dis­ci­pli­nary research into Colour Stud­ies. As its name fig­u­ra­tive­ly and lit­er­al­ly sug­gests, the aim of the inter­dis­ci­pli­nary and inter­na­tion­al jour­nal Colour Turn is to turn over a new leaf in colour research. The jour­nal invites high-qual­i­ty research arti­cles and papers that imple­ment inno­v­a­tive approaches—including sci­en­tif­ic method­olo­gies, his­tor­i­cal recon­struc­tion, col­lec­tion and close read­ing of old and new mate­ri­als, empir­i­cal exper­i­ments, dig­i­tal human­i­ties, ana­lyt­i­cal, com­par­a­tive and crit­i­cal reviews—that open up new hori­zons in colour sci­ences and colour stud­ies. The jour­nal promis­es a col­lab­o­ra­tive effort of high-pro­file edi­to­r­i­al and review exper­tise from all around the world in the field of colour research.
A Note to Authors
The Colour Turn jour­nal invites papers and arti­cles from var­i­ous per­spec­tives in the field of colour stud­ies and encour­ages junior as well as senior researchers to sub­mit their work. A broad spec­trum of approach­es, from empir­i­cal, ana­lyt­i­cal, descrip­tive-com­par­a­tive, con­cep­tu­al, the­o­ret­i­cal, method­olog­i­cal, epis­te­mo­log­i­cal, onto­log­i­cal, behav­iour­al, anthro­po­log­i­cal, and his­tor­i­cal approach­es to colour research are wel­come. At the ini­tial stage, the jour­nal will be pub­lished elec­tron­i­cal­ly via the Open Jour­nal Sys­tem of the Uni­ver­si­ty of Tübingen, Ger­many. The sub­mis­sion dead­line for the first issue is the 1st of Sep­tem­ber 2017. The lan­guage of the Colour Turn jour­nal is stan­dard British Eng­lish.
Colour Turn Editors
Prof. Dr. Susanne Marschall
Insti­tute for Media Stud­ies,
Uni­ver­si­ty of Tübingen, Ger­many
Prof. Dr. Robert Hor­res
Japan­ese Stud­ies,
Uni­ver­si­ty of Tübingen, Ger­many
Prof. Dr. Axel Buether
Fac­ul­ty of Design and Art,
Uni­ver­si­ty of Wup­per­tal, Ger­many
Dr. Annette Wern­er
Insti­tute for Oph­thalmic Research
Uni­ver­si­ty of Tübingen, Ger­many
For more infor­ma­tion vis­it the web­site:
www.colourturn.net
[down­load id="57"]
Please sub­mit your papers and con­tact us at:
submission@colourturn.net
For spe­cial inquires con­tact:
Prof. Dr. Susanne Marschall
Eber­hard Karls Uni­ver­sität Tübingen
Lehrstuhl für Film- und Fernse­hwis­senschaft
Direk­torin des Zen­trums für Medi­enkom­pe­tenz
Wil­helm­straße 50, 72074 Tübingen
Tele­fon +49 7071 29–74271
Fax +49 7071 29–4656
E-Mail: susanne.marschall@uni-tuebingen.de
Schlagwörter: Colour, Communication, Interdisciplinarity, Media, Mind, nature, Research, science, society, Technology
Artikel der gleichen Kategorie